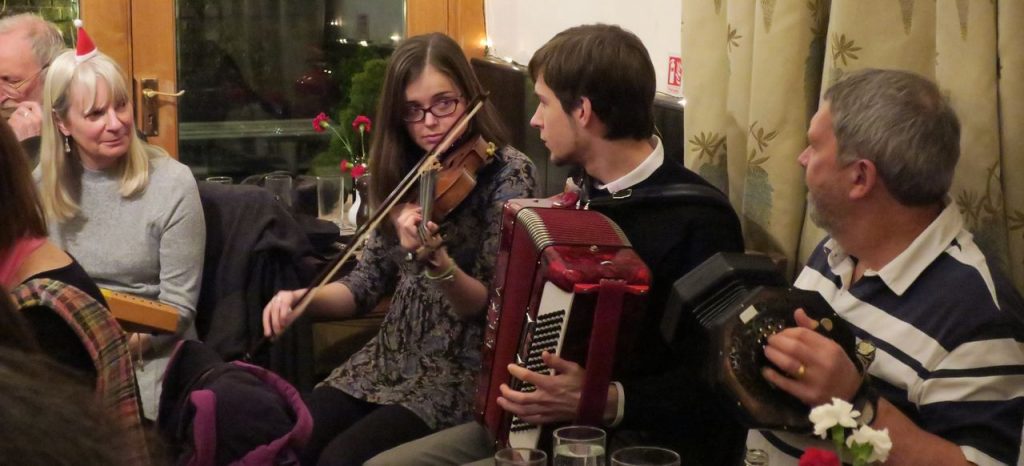 An all comers acoustic music session at The White Horse Ditchling on the last Sunday of the month, 7 till 10. The session is usually led by members of Unreel and The Twagger Band. Derrick might be there with his Serpent or Barry from The Rude Mechanicals with his Nyckelharpa, there will be fiddles, squeezeboxes and more. Add this to being in the public bar and it can get noisy so perhaps it's not ideal for introspective singer song writers. Nevertheless, good singers can and do bring the pub to a hush. We play tunes for any and all to join in interspersed with "party pieces" – songs or tunes which may or may not be suitable for everyone to join in with. Most of the material is British folk plus some jazz and blues but we're not picky about genres. The only real rule is no amplification. We're not that keen on "The Wild Rover" either but the only certainty is that every month is different.
"It's all folk music – whoever heard of horse music"
(attributed to Louis Armstrong)
Many of the tunes we play are from repertoire of either Unreel or The Twagger Band. Many of the tunes can be found on The Session web site or in the Lewes Favourites. One regular at The White Horse is Barry Ruffell of The Rude Mechanicals and there's lot of good material on their web site.
The Barrowburn Reel, November 2022.