I had an engineering education, an artist / craftsman family background and for nearly 40 years worked as an engineer in the film and television industry (brief CV). Since I retired from full time work in 2004 I have had the time to develop my life long interest in making guitars and similar musical instruments. I currently make around six instruments a year in my workshop in Ditchling as well as carrying out repairs and customizations.
~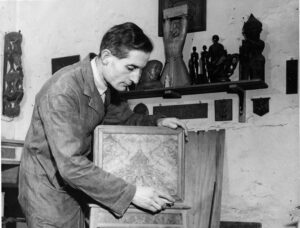 My uncle Ted was a cabinet maker and wood carver. After serving in the far east in WWII he came to live in Edinburgh with his wife, my father's sister Ella, who he had married in 1943. She set up as an antique and bric-a-brac dealer with a shop in Edinburgh's West Port, he had his workshop in the basement. I loved that workshop and learned to love tools. I was an academic youth so working with my hands never seemed to be a career option but I absorbed some feeling for craftsmanship without ever being in any way serious. Ted taught me much else besides. We made a one valve radio in a cigar box, strung an aerial from my top floor bedroom window and listened to Radio Luxembourg. He loved numbers and had all sorts of tricks to help with mental arithmetic – tricks that were once probably commonplace but in the age of calculators have been all but forgotten.
I still use some of his tools. I doubt if I can get them as sharp as he did and he certainly never had the chance to try to teach me anything like craftsmanship. As much as anything else I got from him the image of the one man artist / craftsman / maker in his studio / workshop and though I went off to follow a career in film and television engineering there was a little piece of a dream there that I hung on to.
~
My father James was an artist, a painter, and also a minister of religion, ordained to The Church of Scotland. This may seem an ungainly combination but he was easily able to point out to me the prominence of religion in the entire history of art. Indeed he was a great fan of Eric Gill, sometime resident of Ditchling where I now live, whose life combined art and religion. My father never lived to know the scandalous details of Gill's life. Before the war my father had worked on window displays in an Edinburgh department store and attended art evening classes. He spent time in the studio of Francis McCracken, a New Zealand artist who had lost a leg in the WW1 trenches and retired to Edinburgh to paint. After the war my father had the opportunity to go to university and it was, I think, his mother's wish that he studied for the ministry.
So through some combination of these influences he came at some point in the 60s to be running an "Arts Centre" in a disused church on the Edinburgh Old Town High Street. One teenage summer at The Edinburgh Festival Fringe the Arts Centre hosted late evening folk music. I heard Davy Graham and Archie Fisher, two very different guitar stars of the 60s folk revival. I was hooked and ever since have attempted to play guitar, mandolin and similar instruments in a range of styles, mainly folk and blues but with occasional forays into classical and jazz.
~
Somehow playing and making were together in my mind right from the start. It was inevitable that once I was hooked on playing I'd be thinking of making an instrument.
Back in the days when I started playing the exotic, unobtainable thing was a 12 string guitar. I'd only ever seen one, played by singer Owen Hand. A student friend and I set out to make two, one each, and I recall we did actually produce playable pieces of woodwork despite very little information. As I recall Edinburgh public library had one relevant book. It was in German. Neither of us spoke German but it did have pictures. No trace remains of these efforts but an interesting story about one of them turned up on Facebook a few years ago.
~
I'm sure there are many makers who don't play but in my mind making is inseparable from playing. Guitar making is an art as much as a science for the simple reason that it isn't possible to define the totality of what the maker is aiming for. It is hard enough for a player to explain to a maker what he is looking for in an instrument, at least as a player myself I have something of a head start in trying to understand. After over 60 years I still can't answer "What does an instrument feel like?". That overall sensory combination of sound, looks, playability and more – somewhere in there is the undefinable target to aim for.
~

~
Along the way I've learnt lots of things from lots of people. I credit the some of those on my home page. Also from examining instruments – that I like or dislike – from evening classes, books, latterly web browsing. Learning never ends, I'm not convinced there is ever such a thing as mastery.
November 2022